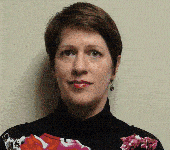 Jennifer Minore
Field Operations Department Manager (Northern California)
Jennifer began working with the Deaf and Disabled Telecommunications Program (DDTP), a statemandated program providing specialized telecommunications equipment and services to people with disabilities, in March of 1999. She joined CCAF at its inception in 2003, as a Field Operations Supervisor. She currently holds the position of Field Operations Manager for the DDTP, managing customer-facing staff from Fresno to the Oregon border.
During Jennifer's tenure as Field Operations Manager, the Program has added six part-time Service Centers and expanded field staff to serve consumers who speak Cantonese, Mandarin, Vietnamese, and Russian.
Prior to her work with CCAF, Jennifer worked for California Federal Bank and for the San Francisco Recreation and Parks Department. She studied American Sign Language interpreting and Deaf Culture and has a Bachelor of Fine Arts from the University of Michigan.