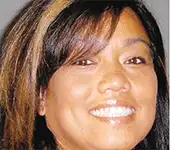 Celia C.J. Solis
Chair
Celia C.J. Solis joined the Board of Directors in 2020. Celia is the Director of Operations and Development for Azul where she brings a wealth of knowledge and skills to day-to-day operations and sustainability. Celia is a senior executive with over 15 years of experience in corporate and not-for-profit administration, human resources, organizational and community development, information technology and marketing. The daughter of immigrants, and an immigrant herself, Celia emigrated from the Philippines and hails from a civic minded family with a passion and appreciation for service and culture, who put family above all. Her father served in the US Navy and taught his family a strong work-ethic. Her mother, a Doctor of Dentistry in the Philippines, became a nurse in the United States, instilled the love for music and the arts; and her brother, dedicated his career to community and service, retired as the Assistant Chief for the San Diego Police Department.
With an extensive background developing and executing strategic plans for sustainability and growth, Celia served as the Director of Human Resources and Administration for RioPort, a start-up international Internet music company. After a successful corporate career in the Bay Area, Celia moved back to San Diego where she was recruited to work for environmental nonprofit organizations responsible for developing Strategic Development Plans, managing the Volunteer and Internship Program, and overseeing the Information Technology Services. Celia also served as the Director of Human Resources and Community Outreach for Ephesians Home Care which provided Alzheimer's support and education to the senior community, and Director of Operations and Administration for New Americans Museum, an organization that honors, educates, and celebrates the contributions of immigrants.
Celia continues to volunteer her time for various community organizations for both local for-profit and non-profit organizations. Celia serves as a Board Member and Committee Chair for the California Communications Access Foundation and is an advisor for the Pre-K Autism Program at Lindale Elementary School in San Jose, CA.; serves as a Commissioner for the Diocese of San Diego, volunteers for St. Rose of Lima Parish as a member of the Pastoral Council and as a liturgical sign-language Interpreter. As an advisor to for profit community organizations, Celia volunteers with Let's Talk Seniors (servicing seniors and families facing Alzheimer's) and The Greatest Gift Program (providing vision care services to marginalized communities). A graduate from San Diego State University, Celia earned her BA in Speech Pathology and Audiological Communicative Disorders and later earned her MBA with a concentration in Management of Information Systems.  She continues to live in sunny San Diego, enjoying the surf, waves and seashore.